Many people use mall-based e-commerce sites to make purchases. In each country, there is a platform with a large market size, such as "Tian Cat" in China and "Amazon" in the U.S. In addition to these, there are several other platforms competing with each other.
Anyone who wants to use cross-border EC to sell Japanese products overseas in the future must at one time or another wonder which platform to open a store on.
Since the language and payment methods as well as the ability to attract customers vary depending on the platform on which you choose to open your store, selecting the right platform is a very important task when using cross-border EC.
In this issue, we will introduce popular platforms and high-profile platforms that are expanding their market scale despite their low name recognition, and compare the features of each platform for those who are thinking of starting cross-border EC.
Thorough comparison of 5 hot platforms!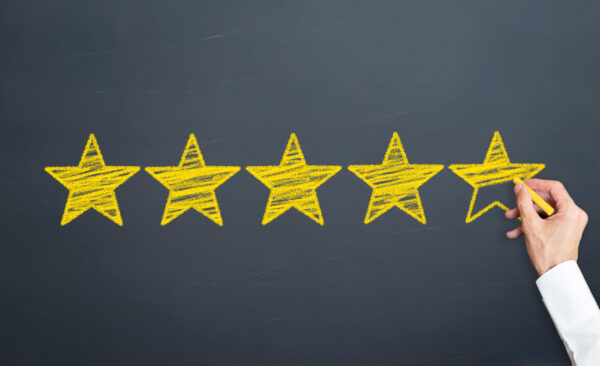 Next, we will introduce a handful of cross-border e-commerce platforms that are currently attracting attention around the world.We will introduce not only the platforms that are attracting attention around the world, but also those that are expected to become popular in the future.
If you are wondering which country and which platform to use to start cross-border EC, please compare the features of the platforms we will introduce and find the platform that matches your needs.
Tian Cat(China)
First of all, we would like to introduce you to the Chinese platform, Tianneko. China is known to have the largest cross-border e-commerce market in the world, not only Tianneko, but it also boasts the No. 1 market share in the world.
One of Tianyao's characteristics is that its standards for opening a store are set higher than those of other companies, and the hurdles for opening a store are high.
However, because of this, high-quality products are mostly displayed, and on the consumer side, the image of a 'safe shopping platform' is attached to it. There are more than 70,000 stores open, offering a variety of categories such as beauty products, baby products, apparel products, and groceries.
Tianneko sells products from many different countries, but in fact, sales of products made in Japan are the highest by country, which shows how much Chinese people prefer Japanese products.
Jingdong Business City (China)
The next platform that is currently attracting attention is "Jingdong Shopping Mall," which is the same Chinese platform as Tenco. The market share in China is the second largest after Tianxico, at approximately 25%, which means that %となっていて、天猫と京東商城で80% account for %となっていて、天猫と京東商城で80% of the domestic market. As mentioned above, more than half of the people in China use Tianxie, giving it an overwhelming share of the domestic market.
So, why do those who use Jingdong Shopping Mall instead of using Tianyao? There are two decisive reasons.
The first is "strength in home appliances. Originally a mass retailer selling PCs and home appliances, it is now recognized as a platform that is strong in home appliances, and the image of " Jingdong Shopping Mall is the best place to buy home appliances" has become widespread in China.
And second, they have a good support system. Kyotoh has a good reputation for its responsiveness to returns and repairs, and Kyotoh has partnered with the Yamato Group, a Japanese company, to offer a four-day turnaround time from order to arrival.
Although its market share is not as high as that of Tianyao, it has many unique advantages as described above. For those who are interested in selling home appliances and other products, Jingdong Shopping Mall is a good choice.
https://www.jd.com/?country=USA
Amazon(U.S.A.)
The next platform that is currently attracting attention is Amazon in the United States.
Amazon is a very well-known platform in Japan that needs no explanation. If you have a smartphone, everyone has probably shopped at Amazon at least once.
With a market share of over 50% in the U.S. and more than 65 million paying members, Amazon is the most recognized and popular platform not only in the U.S., but around the world.
Amazon's site is very simple and easy to navigate, and you can check out word-of-mouth reviews of actual purchases, so even those who are nervous about shopping on the Internet can shop with peace of mind.
Compared to other companies, Amazon's criteria for opening a store are relatively simple and its high market share makes it easy to attract customers, making it a highly recommended platform for first-time users of cross-border EC.
If you are interested in starting a business in the U.S. using cross-border EC, please check out Amazon.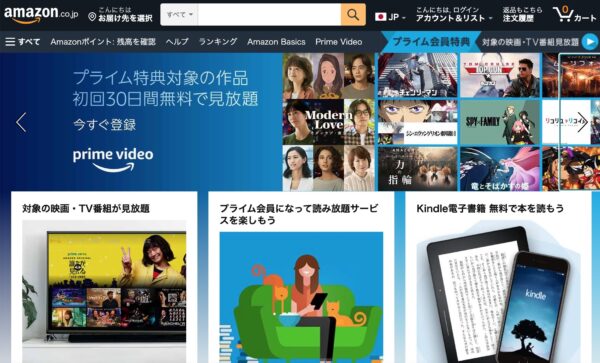 Lazada(Singapore)
The next platform we will introduce that is currently attracting attention is Singapore's Lazada.
Lazada is an unfamiliar company in Japan, but it is gaining popularity as the most well-known platform in Southeast Asia, and most people living in Singapore use Lazada to purchase Japanese goods and other items.
Founded in 2012, Lazada has been gradually gaining recognition since it was acquired in 2016 by the Chinese Alibaba Group, which is also the owner of Tianya.
Often likened to the "Southeast Asian version of Amazon," Lazada is the most popular e-commerce site in Singapore and also has e-commerce sites in Indonesia, Malaysia, the Philippines, Thailand, and other countries.
With its own warehouse, Lazada offers a wide variety of products, including groceries, health products, and apparel items.
If you are interested in using cross-border EC not only in Singapore but also in Southeast Asia, we recommend that you check out Lazada first.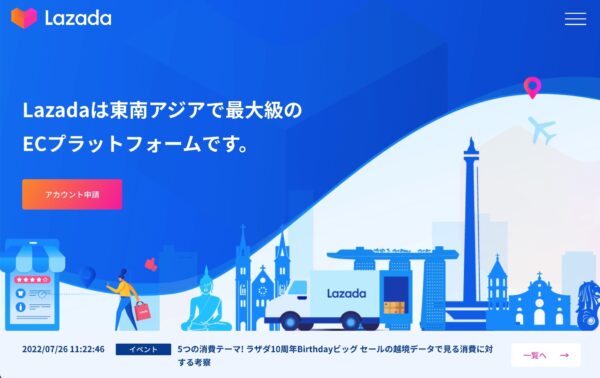 HKTVmall(Hong Kong)
The last platform we will introduce that is currently attracting attention is HKTVmall in Hong Kong.
Although less well known than Tenco and Amazon, HKTVmall has been steadily increasing its numbers in Asia, where the cross-border e-commerce market is growing in size.
HKTVmall, the No. 1 popular shopping site in Hong Kong, has more than 4.15 million members, which is more than half of Hong Kong's population (approximately 7.48 million). More than one in two Hong Kong residents is a member of HKTVmall, a position similar to that of Tian Cat in China or Amazon in the United States.
There are many ways to make consumers happy, such as holding sales on a certain day of the week, allowing coupons to be issued, and introducing a system whereby points can be accumulated based on the amount of payment.
If you are considering starting a cross-border e-commerce business in Hong Kong, HKTVmall is a good place to start.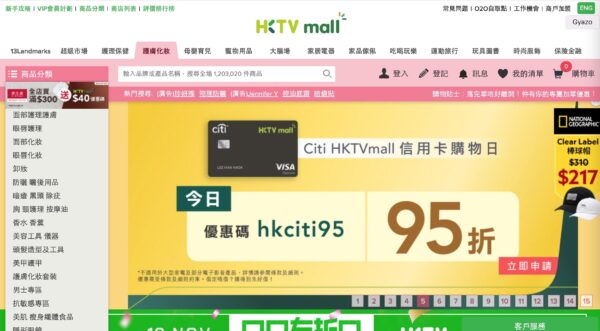 summary
We hope you found this comparison of the features of the popular platforms and the less well-known, but growing, platforms useful.
The five platforms introduced here are all very well-known globally, as well as high-profile companies that are expected to expand their scale in the future.
If you are interested in starting cross-border EC, please compare the platforms we have introduced here and choose the platform that is right for you.